Galvani Ventisei
We feature the GALVANI Ventisei (26) in two versions. The ultra-quiet and comfortable Ventisei-e is a luxurious tourer. The very powerful Ventisei e-HS (high speed) can reach, in addition to comfortable touring, much high speeds (license required).
The Ventisei measures exactly 26 feet (ventisei piedi) from her elegant bow to the integrated swimming platform; that is 7 meters and 92 centimeters. And with a width of over 8.6 feet (2.68 meters), the Ventisei offers enough space for 10 adults.
We have designed the Ventisei based on our vision on sustainable electric propulsion, modern comfort and stunning design.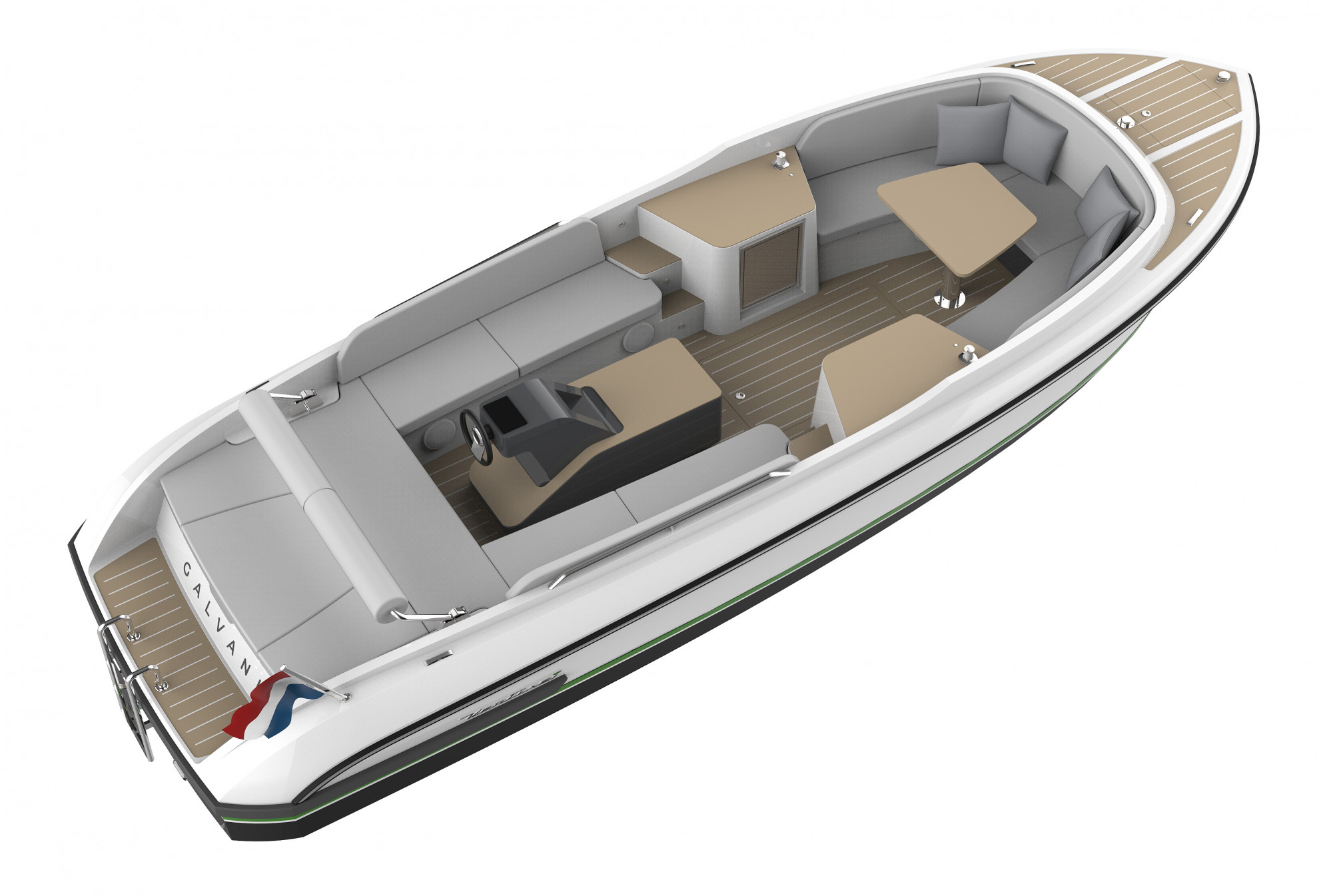 Whisper quiet
The Ventisei (e) is equipped with an innovative 10Kw inboard Bellmarine electric motor. The engine delivers more than enough power for a cruising speed of around 9 kilometers per hour and more if the situation so requires. Bellmarine engines are known worldwide for their endurance, reliability and quietness.
The Ventisei High Speed ​​(e-HS) is a true wolf in sheep's clothing. The 100Kw inboard Bellmarine engine brings the boat to a high speed of over 20 knots (36 km/h)!
We will put together a battery pack that completely fits your needs. This means you don't have to worry about an empty battery; just keep on boating!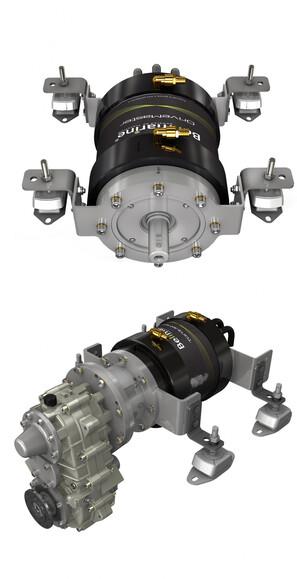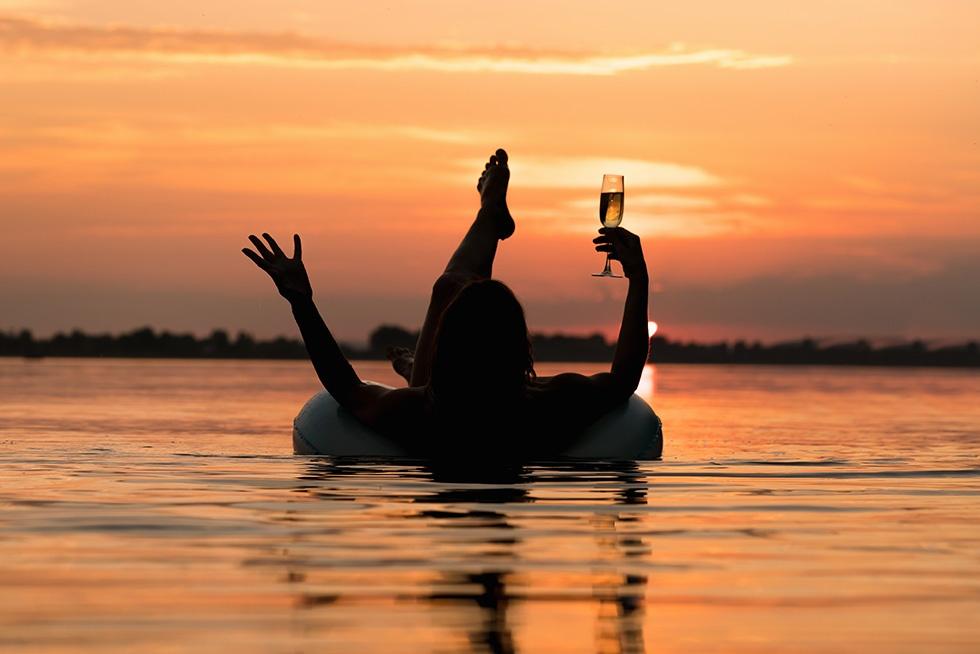 Comfort and luxury
GALVANI boats are fully equipped as standard with every comfort. Our lifetime of experience forms the basis of well thought-out, smart solutions such as the 'wet storage space' under the sun deck, the large drawer (for provisions) in the center console, but also the built-in refrigerator, waste bins and much, much more.
Thanks to the whisper-quiet drivetrain, you can enjoy the silence, the environment, conversations on board, but also music from the first-class sound system.
Stunning design
Bernd Weel designed a stunning, modern tender with classic lines inspired by the famous iconic boatdesigns from Italy and Switzerland. The well-thought-out ergonomics make your stay, operating and handling the Ventisei, relaxing and easy.
Sealevel Naval Architects developed the hull, using the most modern insights and techniques. The result is a robust construction, that offers a lot of stability and excellent handling characteristics at any speed. Lowering the hydrodynamic drag, makes the Ventisei energy efficient, which is reflected in longer operating times.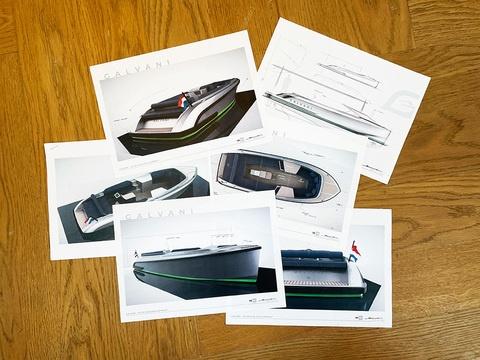 High level of finish
Whether it concerns the construction of the boat, the cushions, spray hood, floor or other fittings; there are no concessions to quality and durability. GALVANI works with a fixed group of selected partners, with whom we select the best materials and who can always offer an adequate service; Worldwide.
SPECIFICATIONS DRIVE TRAIN
Powertrain
Bellmarine Drivemaster 10Kw electric motor (48V)
Closed cooling system with heat exchanger
Flexible engine mounts to minimize vibration
Low-maintenance water-lubricated 25mm propeller shaft
Bronze three-bladed propeller


Cruising speed: approx. 4,6 kts (8 km/h)
Maximum (hull)speed: approx. 7 kts (13 km/h)
Battery system
LiFePO4 batteries (48V)
Short range (base): 10.3Kwh

Medium range (recommended)

: 20.5Kwh
Long range (intensive use): 30.8Kwh
230V/16A battery charger (shore power)
Charging capacity 40A / 48V.
Operation times
An indication of operating times
| | |
| --- | --- |
| Short range (10 Kwh): | 3 - 5 hours |
| Medium range (20 Kwh): | 6 - 10 hours |
| Long range (30 Kwh): | 9 - 15 hours |
Taking changing circumstances, mooring and a cruising speed of approximately 8 km/h in to account.
Charging times
An indication of charging times (0% to 100%)
| | |
| --- | --- |
| Short range (10 Kwh): | 3 hrs (20% to 80%: 1,5 hrs) |
| Medium range (20 Kwh): | 6 hrs (20% to 80%: 3 hrs) |
| Long range (30 Kwh): | 9 hrs (20% to 80%: 5 hrs) |
Charging on a standard 1-phase / 16A connection. Charging on 3-phase connection will of course be even quicker.
Ventisei-eHS

(high-speed)
| | |
| --- | --- |
| Length: | 7.92 meters (26 feet) |
| Width: | 2.68 meters (8.5 feet) |
| Draft: | 82 centimeters (2.7 feet) |
| Minimum vertical clearance: | approx. 118 centimeters (3.9 feet) |
| Weight ready to sail: | approx. 3000 kg (6614 lbs) |
| Material: | Polyester |
| CE category: | C (coastal waters, estuaries, bays, lakes and rivers up to and including wind force 6 Bft and a wave height of maximum 2 meters / 6.5 feet) |